One Stop Teacher Planner
Stop wasting time and money on planners that don't work for you. Now you can customize your very own print or digital planner to fit your exact needs!
Join thousands of teachers who are getting organized with the One Stop Teacher Planner. 
I'm Ready to Join!
GET INSTANT ACCESS
Join the club and get instant access to ALL of our dated lesson planners and classroom resources. Start building a customized teacher planner right away!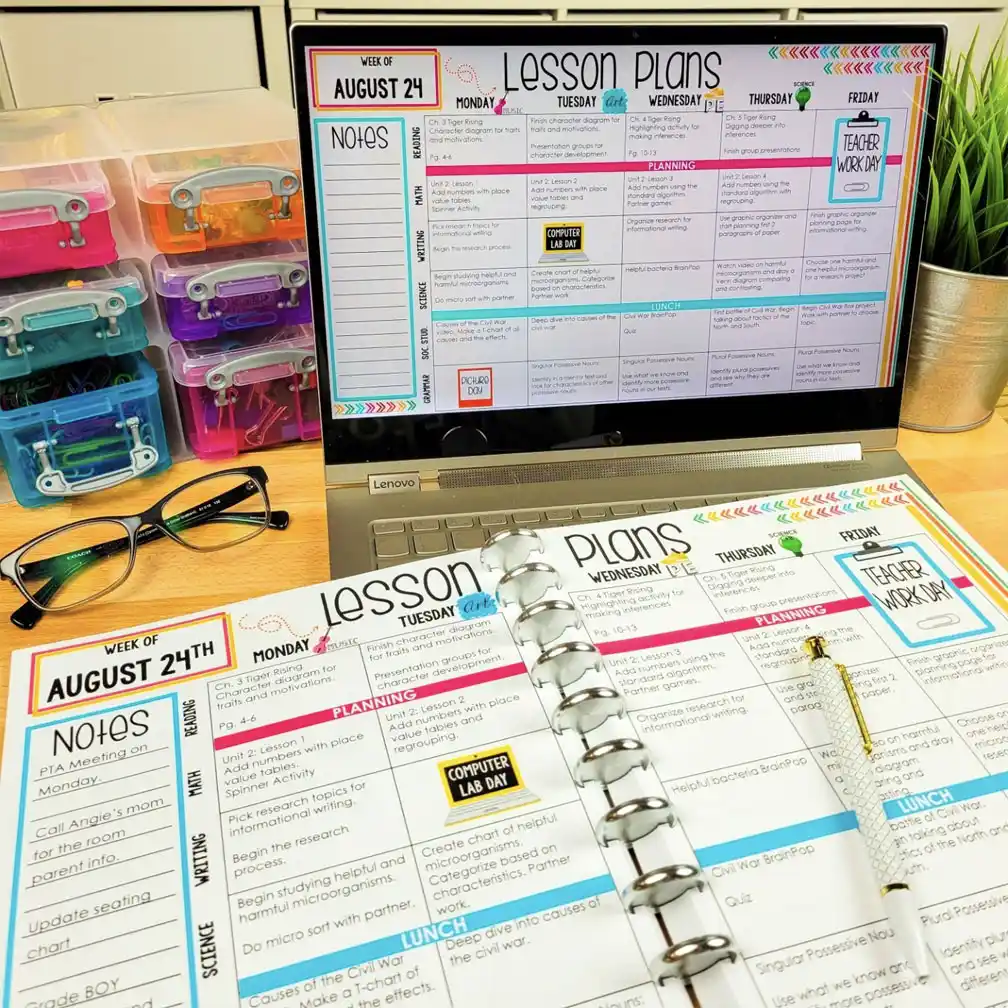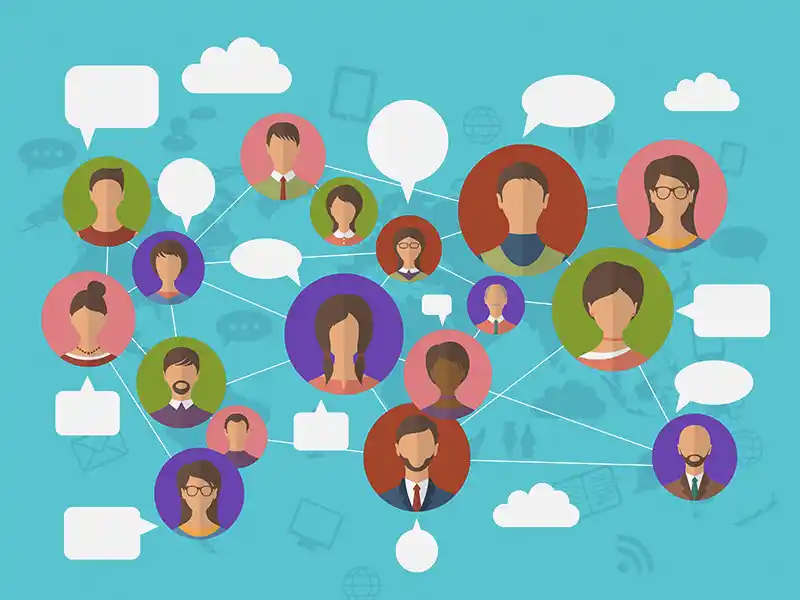 JOIN THE COMMUNITY
Join our exclusive online COMMUNITY to see what other club members are doing with their teacher planners, get tips from the pros, and become inspired.
UPDATES & EXTRAS
Members get fun seasonal "Extras" and updated lesson planners and calendars EVERY SINGLE YEAR! No additional cost! It's all included.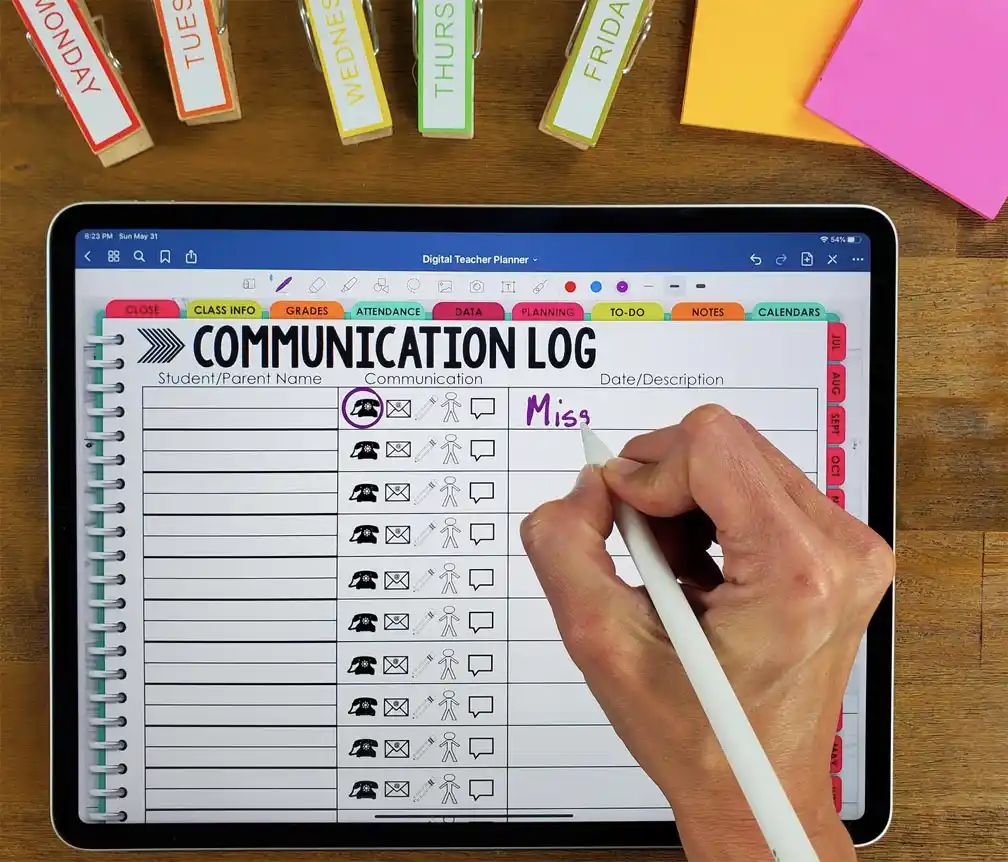 CANCEL ANYTIME
NO COMMITMENT! No contracts! No problem! You can cancel your membership at any time.
TONS OF OPTIONS!
It's not called the One Stop Teacher Planner for nothing! This planner has everything you need to accommodate your schedule, style, and classroom needs. Use PowerPoint or Google Slides to edit and customize your perfect teacher planner!
PRINT OR GO DIGITAL!
No matter if you prefer to handwrite or type your lesson plans, this planner is for you. You can even go 100% paperless and use Google Drive to access your planner from any device!
SAVE TIME AND MONEY!
Stop purchasing new planners year after year! As a member of the One Stop Teacher Planner Club, you'll get updated planners and calendars EVERY SINGLE YEAR! Plus, you'll get all the new goodies I add to the club throughout the year...all included!
MORE THAN JUST A LESSON PLANNER!
Our club is committed to helping you organize more than just your lesson plans. That's why we include TONS of classroom tools such as data trackers, to-do lists, grade sheets, meeting notes, password keepers, communication logs, and SO MUCH MORE!
What's Included
We are always adding more great resources to our One Stop Teacher Planner Club. Here is just some of what's included in the club. ALL of our resources are fully EDITABLE AND CUSTOMIZABLE. Everything you see can be used to make a PRINTED OR DIGITAL planner.
PRINT
AND

DIGITAL PLANNERS

We offer all of our lesson plans, calendars and classroom forms in Google Slides and PowerPoint. Use either option to print your planner, or you can simply click and type right onto the pages. Access your digital teacher planner from any device using Google Drive!
OVER 100 COVER DESIGNS!
The One Stop Teacher Planner club includes a wide variety of designs. With over 100 options and counting, there is something for everyone.
PICK YOUR STYLE
ALL forms, calendars, and lesson plans included in the club come in THREE Styles: Modern, Whimsical & Mixed. You can choose the look that matches your style. Customize your color scheme or print in black and white.
PREDATED LESSON PLANS
An entire year of pre-dated lesson plans for 1, 2, 3, 4, 5, 6, 7, 8, 9, and 10 subjects! Choose between subjects across the top or down the side. Customize with your own subjects, times, periods, etc. FULLY EDITABLE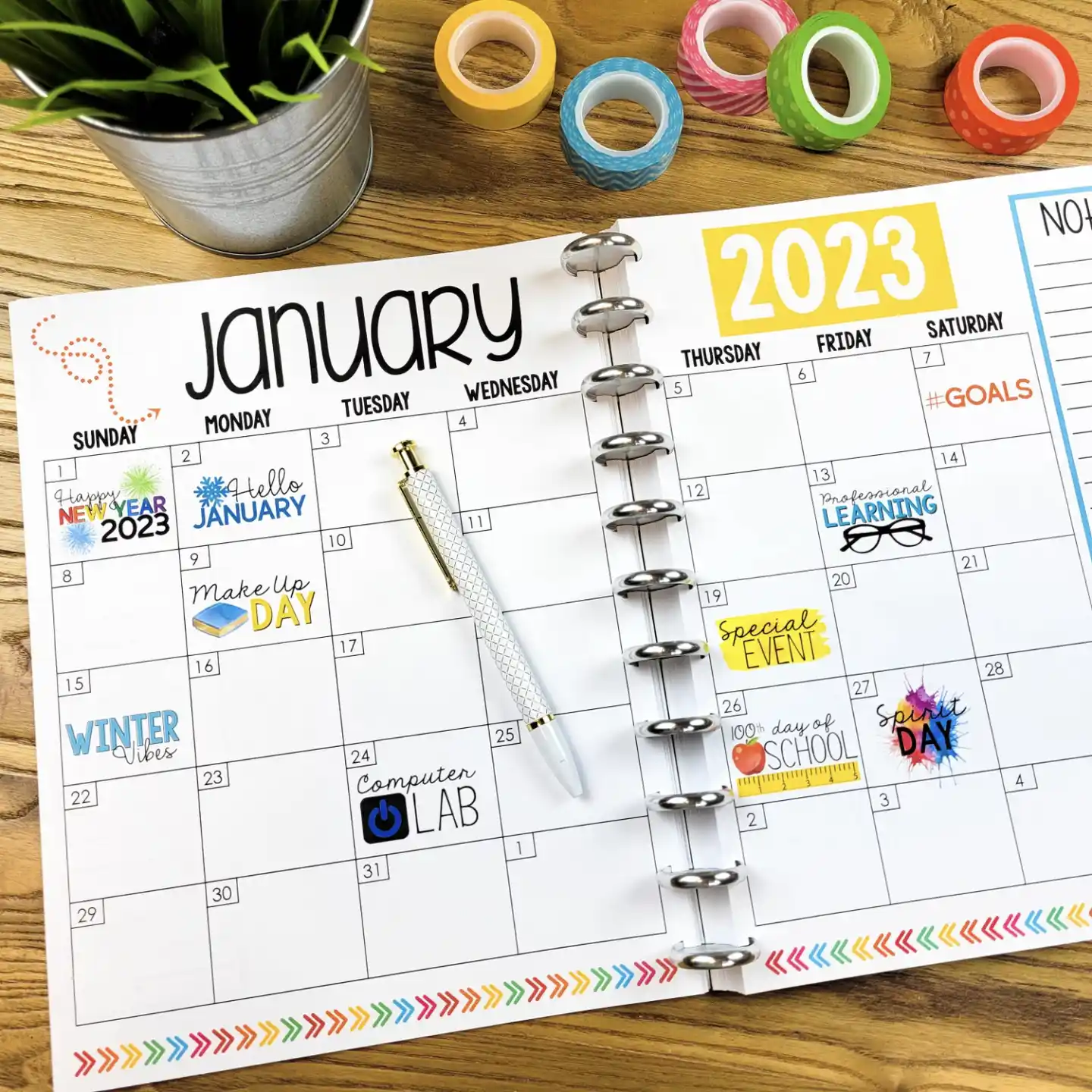 MONTHLY & YEARLY CALENDARS
Track important dates and plan your month or year at a glance with a variety of calendars!
SMALL GROUP PLANNING TOOLS
3, 4, and 5 group lesson plan templates included. Plus, a small groups notes page to track student progress.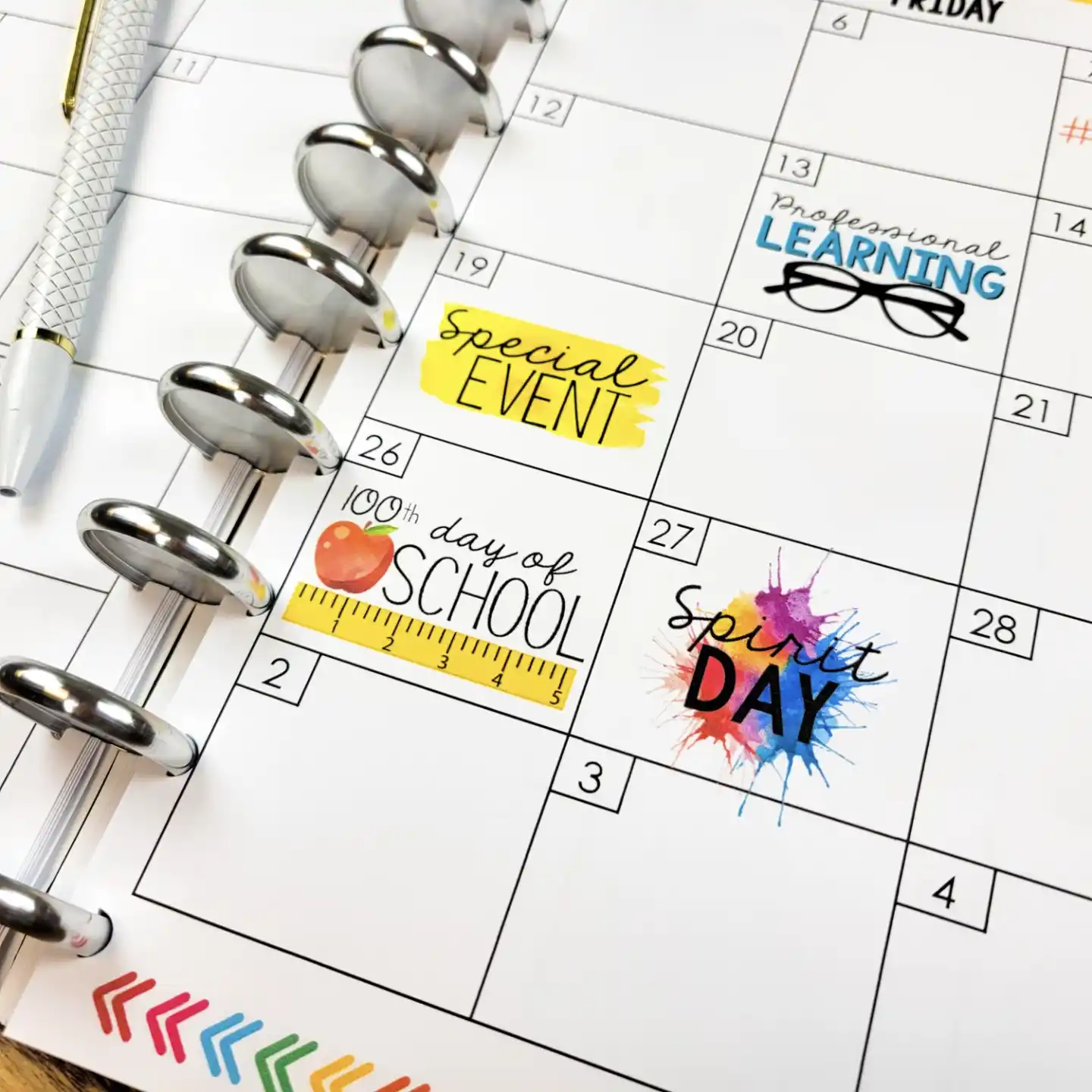 DIGITAL STICKERS
Choose from a wide-variety of digital stickers to add pops of color to your calendars and lesson plans.
TO-DO LISTS
Use one of the included daily or weekly to do lists to organize what you need to do and make sure it all gets done.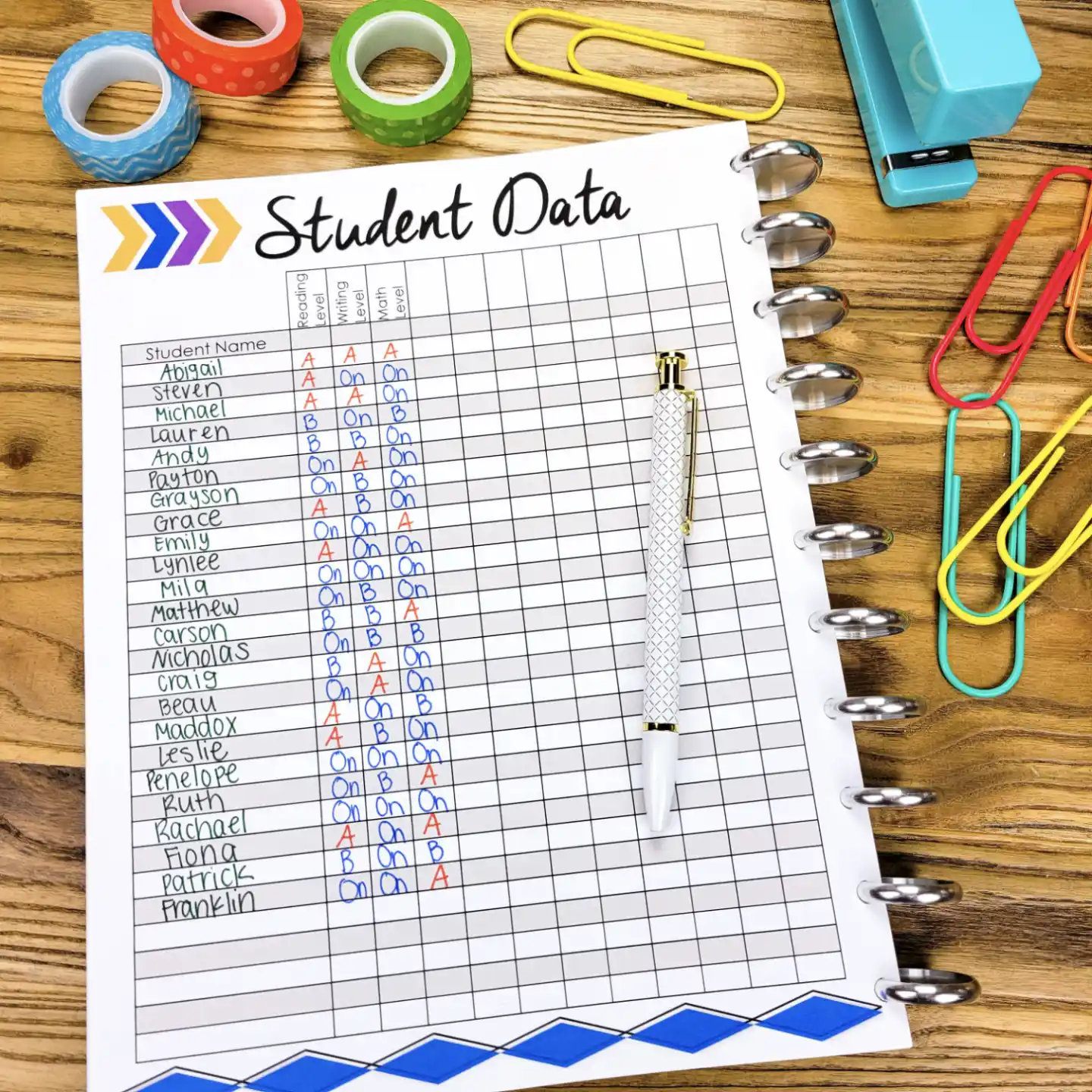 GRADES, ATTENDANCE & STUDENT DATA TRACKERS
Keep track of grades and attendance with a variety of trackers. Plus, track your students' progress with Student Data sheets.
COMMUNICATION LOGS
Keep track of every time you communicate with a parent with our Communication Logs.
CURRICULUM MAPS
Use our ready-to-go curriculum maps to plan out your quarter, semester, or entire year. Perfect for long-term planning.
DAILY SCHEDULES
Keep track of your daily class schedule. Plus, track individual student schedules for students who are serviced by other teachers.
HOMESCHOOLING FORMS
While all of the pages can be used for homeschooling, we include a pack of unique forms that are perfect for any homeschooling family. Perfect for tracking your progress, planning your curriculum, and scheduling activities. 
AND SO MUCH MORE...
We just named a few, but SO many more goodies are included in our club. Plus, you can customize any of the pages to meet your individual needs.
TONS of HOW-TO VIDEOS
Once you join the club, we'll walk you through setting up your first planner and give you lots of tips and tricks to help you along the way.
Kristen P. - Teacher
"I've been using this planner for 3 years. I LOVE everything about it, specifically the ability for me to personalize all the pages I need. I can modify the lesson plan pages to fit the classes I teach. I also like that I can choose the extra pages I use and don't have to buy a pre-made planner with sections I don't use."
Annie S. - Homeschool Mom
"I absolutely love the Teacher planner (even as a homeschool mama)! I've never before been able to keep up with a teacher planner because my needs constantly change throughout the year and my planner couldn't adapt. I am blown away by how easily I can adjust each insert to meet my needs and be exactly what I want it to be!!"
June Y. - High School Teacher
"I love the One Stop Planner! I teach 3-4 different high school courses each year and the planner helps keep me organized. The lesson planner is posted digitally for students and admin to see. I was able to edit it to meet my admin requirements. I use other forms to keep track of conferences with students, small group progress, late work, tardiness and absences which are color-coded by class period."
Pam S. - Teacher
"The one stop planner club has helped me stay organized this school year.  I love the ability to print off what I want and personalize how I need.  The monthly add-ons are a huge bonus!"
Jennifer R. - Teacher
"I love checking in each month for the cute freebies! I also love all the different layouts so I can see which one works best for me and my ever changing schedule!"
DeAnna L. - First Grade Teacher
"I loved how easy it was to use!  Whenever I had a question, I got immediate feedback!"
Jeanna G. - Homeschool Mom
"As a homeschool parent, planning is a daunting task. Using the editable One Stop Planner makes it easy to enter lesson plans, change lesson plans and print. My weekly spread always looks fantastic, is legible, and I am good to go. Before I would try to scratch out or white out so I did not have to rewrite but this became tedious, messy and I missed assignments. Customization, is the part I enjoy most. I split columns and rows to accommodate my homeschool needs, I add in the week #, color code the subjects, fun color the days and add in digital stickers that represent a holiday or season. I change the Notes section to field trips or supplies needed. It is really easy to make my own for my needs."
Melinda D. - Math Teacher
"I have struggled for several years to find the planner that had just what I needed that didn't cost an arm and leg. With the One Stop Teacher Planner, I found what I was looking for. It took a little bit of time to set my planner up and get it printed just the way I wanted it, but I now have a planner that fits all of my needs. No more having 3 or more books to try to stay organized."
Frequently Asked Questions
How will I access the planner resources?
What programs do I need to customize my planner?
What is the main benefit of purchasing a life-time membership?
What is the main benefit of purchasing a yearly membership?
How does the yearly membership fee work?
What is your cancelation policy?
What if I'm not comfortable with technology. Will this club still work for me?
Is this teacher planner suitable for middle school and high school teachers?
What size lesson planner can I make with this club.
Are updated yearly lesson planners included with the club?
What if I purchased your planner on another website? Can I still join the club?
Is there a way to purchase a One Stop Planner if I don't want to join the Club?
Not Sure? Try Our Freebies!
Get instant access to my One Stop Planner FREEBIE CLUB (includes a full-year calendar) along with my latest tips & tricks via email.
Access Freebies!